Frozen Yogurt Machine Review Argosy 8000i
Two-Flavor, Free-Standing Soft Serve Machine
Hello to all of my lovely readers!
Today I am going to review the new Argosy 8000i Frozen Yogurt machine. I am a huge fan of this machine and think it's a great new development in the commercial soft serve yogurt machine industry. Not only is it a super sleek and attractive design, but the 8000i was built to last and will take your business to the next level of professionalism and quality.
The 8000i is the first real innovation that the froyo industry has seen in a number of years. The engineers who designed it focused on making a machine that was efficient and powerful while also being very visually pleasing. Style is a big aspect of a frozen yogurt store's success. Stores with a more hip and fresh design get way more initial customer attention than a store that is less visually appealing/exciting. You want machines that look AND act the part. The Argosy does both.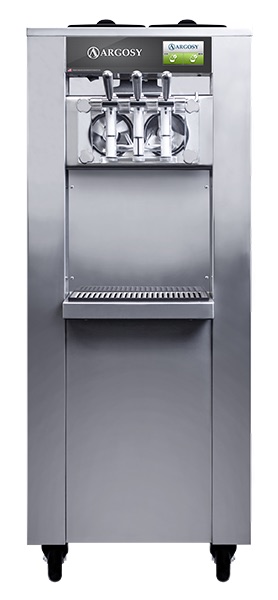 Now let's discuss some of the amazing features of this commercial frozen yogurt machine.
The Argosy has many specific qualities and features that set it apart from the rest. For starters, it has a smaller footprint than other machines. Frozen yogurt isn't just for ice cream or froyo shops anymore. Nowadays, many more convenience stores, restaurants and retail locations are offering frozen yogurt desserts to their customers. Because of this, Argosy designed the 8000i machines to be more portable and maneuverable than other machines in the industry. This gives these businesses the capability to maximize revenue while not giving up valuable business space.
The Argosy 8000i is extremely energy efficient. Energy consumption is always an important issue when thinking about business costs. These days it is an extremely important part of selecting the right equipment for your frozen yogurt business. As a society we all need to be aware of our environmental responsibility. More energy efficient machines are also imperative for a business in terms of reducing operational costs. No business wants to be spending an unnecessary amount of money on their electric bill when there are machines like the 8000i out there to dramatically cut down energy costs.
Another amazing perk of this machine is that is has a larger capacity than most of the machines on the market today. A commercial frozen yogurt machine needs to be able to handle summer, peak-hour rushes. When everyone gets hot they need something to cool them down and FAST. The 8000i will give your soft serve shop an advantage over the rest by working efficiently in these demanding conditions. This machine has larger freezing cylinders which increases your volume of ready-to-serve product. This will cut down the time of how long people have to wait in line! That is the kind of customer service you want to offer in your frozen yogurt shop.
The 8000i is extremely easy to operate. This machine has a Smart Touch Control visual touchscreen with an LCD control panel so your employees will be able to operate it with ease. It will give them the control that they need to make sure the product is in tip top shape for your customers. The future is here! This machine is the first frozen yogurt machine with touch screen operating system. It will give your operating employees full control of product taste and texture. The Smart Touch Control gives full machine control to the operator and also monitors all aspects of the machine. Your employees will have full control from amps and volts to temperature readings and pulls. The STC adjusts all aspects of the machine in an all-in-one dashboard. Pictured below is the STC LED touch screen.
Another amazing control that the 8000i offers is the ability to completely control the temperature of the product. It is important to be able to accurately control the temperature of each chamber for different mix types. The 8000i does this with ease which definitely sets it apart from the rest. Being able to set and maintain temperatures for your frozen yogurt machines offers you amazing control and the capability to consistently make a perfect product.
CLICK HERE FOR PRICING and MORE INFORMATION
Here is a great and informational service review by a commercial food service technician:
SPECS
Freezing Cylinder Capacity: Two – 4 quart freezing cylinders
Hopper Capacity: Two – 11 quart hoppers
Weight: 400lbs NET
Dimensions: 27-1/2 inches x 21-1/4 inches  x 53-7/8 inches
Type: Air-cooled, Gravity-fed
Electrical: 208 – 230 V, 60 Hz, Single
I would recommend the Argosy 8000i 100%. I think that it is an amazing machine that will bring your business to the next level. It really is a machine of the future.
Peace, love & froyo!
Chelsea